When it comes to software that obtains statistics, looking at and understanding the load test results are often two different things. Knowing what to look for, how/where to find them, enables one to make the most of what those metrics have to offer. The load test results summary in Tricentis NeoLoad (Results tab) is the screen that displays the test's completion and is a sturdy container holding significant points of data that could be easily overlooked. Taking a quick glance at the summary header will help to illustrate the impact of these points. See the diagram showing exactly what is located and where:

Name, description, and test status (passed or failed)
Test start/end dates
Termination reason (policy, failure, other, etc.)
LG hosts used, their IPs
Project/scenario names
Load and stop policy selected/utilized
Filters applied
Similar to the Results summary header, the Statistics Summary covers more detailed info of the test (e.g., total pages, average pages per second, total requests, users launched, iterations completed, and so on). You also have an SLA legend next to each result letting you know how each item measures up to your SLA:

Also, there are summarization graphs that we will cover later in this article. For now, note the sidebar hotlinks and what they include. (FYI: these cannot be found digging through the tab sections above.) Each of these links brings you to a specific tab to see the summary detail page. The data displayed is a complete report, segmenting down to the precise details of each given data point. The Monitors and SLA per User Path reports are particularly helpful in seeing what further data monitoring has been obtained along with how successful it was achieved.

Also, note the pre-generated graphs as Main Graphs on the left side hotlinks. These are core metrics needed for base analysis offering a bird's-eye view of the overall performance of the recently completed test. It even has a Top 10 First Alerts (most common), to point you in the right direction when trying to rectify a problem with a test.
Okay, we've now covered the Test Summary. So what about the meat of the interface? How do we find, say, a graph showing the number of users who completed X number of page functions? Let's walk before we run. Take a quick peek into each of the tabs which look like this:

Click on the Values tab to visualize all your raw data — displaying data on this tab can be adjusted and is worth mentioning. First, if you select a user path with several elements presented, you will see a graph depicting your selection.

How do you drill down into the per-page or transaction values? Look for the "tree" button, next to the tiled view, as well as the drop-down to select which type of values you wish to view (transactions, pages, requests, etc.)

Click on the file tree button. This expands your view, allowing you to drill down to the lowest levels of your project's user path to view details of those items. Selecting errors, throughput, or elements, any of the counters on the lower left — now you are making your load test results talk to you.
Next up is the Graphs tab. Earlier, you saw how simple it is to manipulate the Values tab — this is one of the most natural and intuitive to use. Keep in mind that you have four tabs on the top left to shuffle between when building graphs, creating comparisons. For example, grab a monitoring element and compare it to a user path's number of pages.

Why is one of my data points showing up as a flat line at the bottom? It's important to realize you can change the scale of each data point by double-clicking the Scale column on any given row. You can increase or decrease (from 1 to 100, or 1 to 0.01) the size, so it will show you more detail. Changing its size will provide you with the further structure to analyze. (See image below where I adjusted the transaction duration scale from 1 to 100).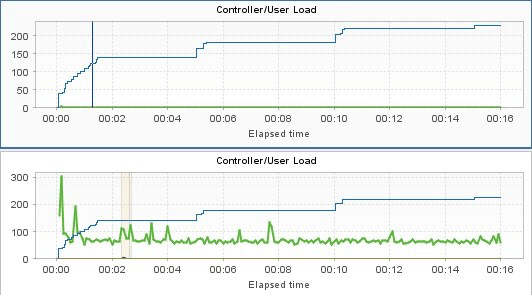 As this is a summarization article, the Errors, Alerts, Logs, and Details tabs are each self-explanatory. However, we'd like to take a closer look at the Results Manager. Here, you will find everything you need (once you've decided on the graphs/values you feel are necessary to you) to generate your reporting.

You can even import performance monitoring data from servers that were used to run the test, and compare this imported data to the performance data for your test! That's genuinely getting useful data feedback. As you can see, within the Results Manager, there is an ample supply of features you can play around with. We recommend utilizing the supplied Sample Project to populate your data and have a look at what can be done with the data provided.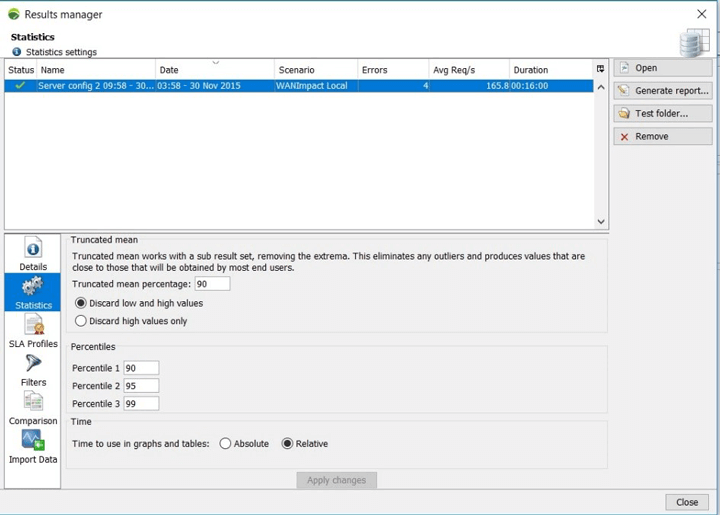 I hope this interface summary has proven to be a useful how-to overview of the load test results Summary and Results tabs sections of NeoLoad providing actionable insight into what needs to be resolved from either hardware or software resource issues.Many name-brand companies trust NeoLoad when it comes to having commercial campaigns bombarding circuits from all over the world. With NeoLoad, they were prepared and ready. You will be too once you've mastered the art of making your load test results talk to you.
This blog was originally published in 2018 and was refreshed in July 2021.