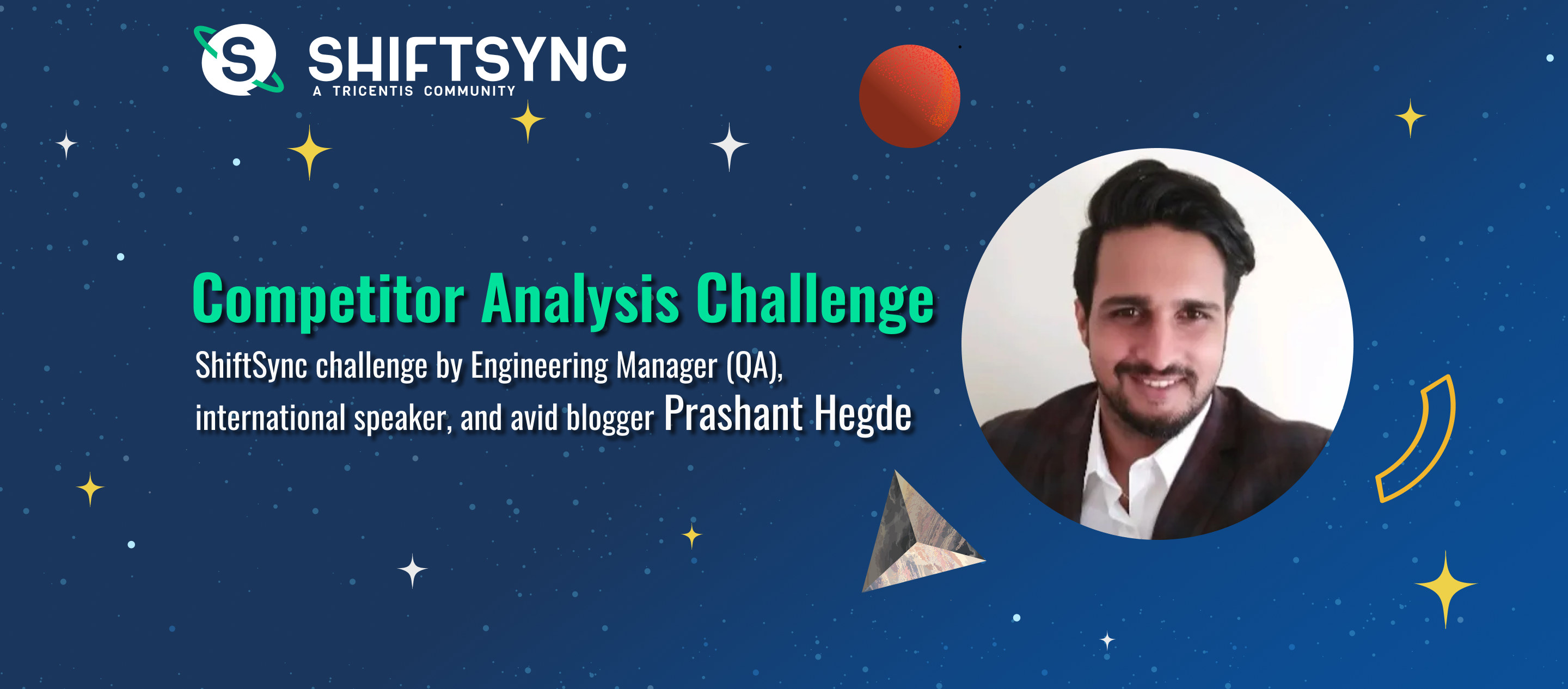 Testing involves exploration, questioning, experimenting, and even comparing similar products.
When was the last time you compared your application to a similar product? Solve the challenge by @Prashant Hegde, showcase your skills and win a gift box.
Keep your friends close but your competitors closer.
Testers usually overlook competitor analysis because they feel it falls outside their scope of work.
Investigating competing products is an effective way to generate testing ideas. Working on the same product for a long time may make you lose sight of some risks/problems since you have become too familiar with it. When you evaluate multiple competitors, you will discover valuable insights. Competitor analysis allows you to put yourself in your customer's shoes and understand the market from their perspective. Furthermore, helps you to advocate for building missing features, capabilities, or experiences in your app that your target audience finds useful/ appealing.
So here is the challenge: Lead your organization to leapfrog its competitors - Perform a competitor analysis - Identify your competitors, learn about their products, offerings, and services, and devise strategies to surpass them. 
Choose your application
 Ideally, the one you test, otherwise any sample application)
Identify the Top 3 Competitors of the product
Talk to your product, marketing, sales, or other relevant teams to determine who the competitors are.
Compare your product with your competitors. 
Sign up for a free trial of your competitor's app, and do a feature comparison. 
List product gaps, and missing features, and list enhancements that can take your app to a new level. 
Derive the strengths and weaknesses of your product. Also, identify opportunities and threats based on your learnings - SWOT analysis. 
Be sure to analyze your rival's reviews, bugs, and incidents from publicly available information.
You can use this sample template or create a report of your own.
Summarize your findings and outline your strategy to surpass your competitors.
What features are unique to your product? What features differentiate your product from the rest? 
Suggest what can be improved or revamped in your product based on your learning.
When you finish the challenge, share your report here in the comments or send it to shiftsync@tricentis.com (please comment here under the post that you submitted your report per email, so we can take it into account). Please share how this exercise helped you as a tester or your organization in the comments section with the community.
Submission deadline is 30.11.2023
Note - If you cannot reveal the real name of your application and the competitors, feel free to anonymize/mask the names. 
The tester who submits the best reports meeting the above conditions will be declared the winner of this challenge. The winner will get a gift box, badge, +300 points and a certificate of achievement. 

All participants will get certificates of participation and +100 points. Good luck.